Brand Suitability is a measure of the overall compatibility between an advertiser's goals and the content where an ad is being displayed next to. The goal is to create positive brand associations and campaign outcomes while minimizing risk. It's difficult for marketers to ensure that their ads will not be displayed alongside high-risk content, or even content that is in the wrong category altogether. Balancing these constraints can help ensure that the publisher, and the content it is displayed alongside, are brand suitable and will yield high quality results.
It's not enough to avoid fraud or the usual fake news website. Advertising is a numbers game, one that is played long-term. Creating strong positive associations with your brand is important, but its significance is often overlooked in favor of buying inexpensive ad space. Unfortunately, this grab-and-go strategy wastes significant parts of advertisers' budgets, and it doesn't have to be that way.
What You'll Learn
What is brand suitability?
How does it impact my advertising strategy?
What factors impact my brand suitability?
How can I improve my brand suitability?
Suitability: More Than Brand Safety
We now know that brand suitability is focused on identifying appropriate environments for your advertisements. It's a holistic view where advertisers have to ask themselves, is this publisher someone my brand wants to associate with? Remember, who you associate with matters. When your ads are auctioned into ad units on websites with low organic traffic alongside unrelated content, you can be sure that you've wasted your time and money.
If you've ever used an inclusion list, this may sound simple, you curate a list of publishers you are interested in and launch your campaign. However, studies show that almost 11% of all global ad traffic is invalid. Inclusion lists can certainly help reduce this problem, but re-using the same inclusion list may not be enough to stop ads from winding up in low-quality environments that create this invalid traffic. Inclusion lists require ongoing work to ensure you can hit the right scale, too small of a list and you may end up way under your delivery goals. Prospecting for new publishers and monitoring the quality of publishers in your inclusion is vital.
When your advertising strategy is focused more on allocating funds for quick and cheap impressions, it becomes a race to see which advertising space you can occupy first. Prioritizing brand suitability helps you develop a sustainable strategy that doesn't use a wide net but, instead, a fine-tooth comb.
How to Find Brand Suitable Publishers
There are different factors that can make a publisher brand suitable. Made-for-advertising (MFA) pages, for example, create a low-quality environment for your advertisements. These pages would not be considered brand suitable and, in fact, can even cause higher churn rates.
MFA sites disguise their behavior based on incoming traffic, and they're also relatively cheap when it comes to CPM (cost per mille) values. This allows MFA sites to easily evade suspicion from anyone buying space on the page. As a result, these arbitrage websites directly impact both direct and paid traffic for advertisers.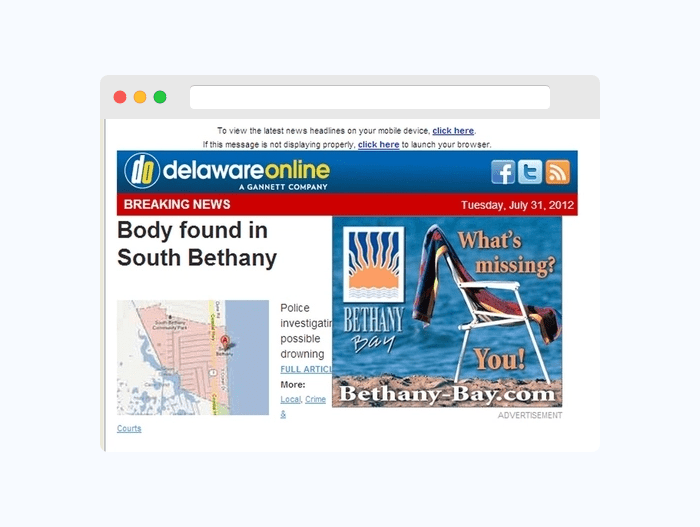 When a publisher is brand suitable, they align more with the values, ideals, and aesthetics of your brand. For example, a car manufacturer would not want to advertise on an article about a tragic incident involving a vehicle and pedestrians. Considering brand suitable publishers means evaluating the priorities of your brand and partnering with sites that match your style.
Brand Suitability Factors Worth Considering
Knowing when to work with a publisher starts with evaluating four key aspects. There are a variety of factors that make a publisher brand suitable, many of which focus on avoiding negative, inappropriate, or low-quality content. Today we'll be covering four important factors.
Content Category
This is a baseline requirement and refers to broad categories such as Sports, Arts & Crafts, Finance, etc. When focusing on brand suitable publishers, it's necessary to ensure that you can accurately target the right content category on any potential ad space. This applies for inclusion and exclusion alike as there likely are categories that, in relation to your ad, will not yield the right results. Determining the content category of a page or website at scale is tough to do as it is a continuous process. Our platform makes this process simple by accurately categorizing every web page using a state of the art machine learning model.
Brand Association
Brand association is the connection that a customer has to your brand, it's essentially how a customer remembers you. Any level of brand association requires marketers to identify which organizations, products, and services have complimentary attributes. For example, a Luxury car company may target websites that focus on sophistication or expensive products, such as high-quality watches. However, this could even include a financial news website or a blog about investments. Brand association also encompasses which other brands advertise on those sites and helps to narrow down the type of potential traffic that a site may receive. Generating consistent positive associations with your brand can have both short and long term benefits.
Brand Safety Risk
Certain content can pose a brand safety risk to your advertisement. This includes anything that may not align directly with your brand, but it can also include inappropriate content or fake news. Mitigating this risk means ensuring that all content is safe and preferably shared by a credible publisher. One necessary step is to check disinformation databases that may list websites known to publish disinformation and exclude them from your targeting pool. Our platform provides a convenient flag on all of our results indicating if a publisher has been listed in any disinformation database.
Fraud Risk
Low-quality websites are more than just poorly built — oftentimes, these pages come with serious risks of fraud. If the publisher sources bots or incentivizes traffic to their page, there is a chance that they could be fraudulent or put users at risk. Determining if a page has a fraud risk involves learning whether or not they hide or stack ads, if they use pop-ups, and more. Using a platform that offers a way to view publisher risks from a high level is a great way to meet campaign scale goals while increasing the strength their brand. There is no need to choose one or the other.
Tips for Finding Brand Suitable Publishers
Identifying brand suitable publishers to partner with requires you to start by searching within your target industry. This depends on how well you can ensure that the publishers who host your ads resonate with your product or service. Visit these pages, look for the amount of ads that they display, gauge the quality and uniqueness of their content, verify that they provide a good user experience. These are all key indicators of a strong, brand suitable site.
Identifying these low-quality pages at scale is an issue for many advertisers. That's why deepsee.io offers an efficient solution for identifying and avoiding low-quality made-for-advertising publishers in your campaigns, making it easier for you to direct your ad traffic to the appropriate locations.
With access to Deepsee's PublisherRisk Portal, advertisers and agencies can efficiently prospect for publishers and evaluate publishers across many of the factors mentioned in this article. Our system audits millions of websites on a daily basis to provide accurate information at scale. You can upload a delivery report and gauge the quality of a previous campaign, or start anew with our publisher discovery tools.
Learn more about our PublisherRisk Portal. Not sure where to start? We offer a a free media audit where we evaluate one of your previous campaigns and provide you with an inclusion list, all free of charge.